Saturday, October 20th, 2012
As daylight dwindles and the mercury sinks lower, the sock drawer once again opens. Yawn.
Wake up! If you think putting on socks is as exciting as watching paint dry, you clearly need to sass up how you warm your toes! Pulling on the woolies can be wonderful with a little help from Emiko and Junko, the Japanese mother-daughter team behind Antipast!
This season's shipment of Antipast goodies just arrived at the Ped warehouse, and every whimsical pair puts the "fun" in "functional" and brings out the "win" in "winter"! Take a look:
When the days go grey, what we really crave is color and lots of it! Antipast to the rescue:
We are mad for all things striped, so these Gradation socks are just the ticket! We think their architectural pattern is reminiscent of the window-paned walls of Mies van der Rohe's buildings. (Like knee-highs? You're in luck!)
Stripes are terrific, but we also love dots. Put the two together, and you've got a party down below! Behold Antipast's cute-as-can-be Candy Knee Highs: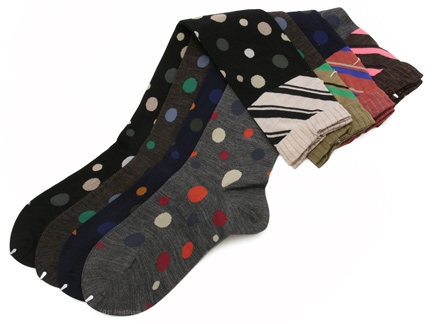 How fun are these? Imagine how jazzy these sweethearts would look with short-ish skirts and mary janes or ankle boots! (Prefer trouser-length socks? You can still have your stripes and dots!)
Stripes also add a dash of fun to Antipast's Cokrico socks:
We love wearing florals in winter because it reminds us of spring. The bouquets on the Cokrico are like a garden party for your ankles! (Want even more flowers? Pull on the knee high version!)
Need something a little more subdued (though never boring)? How about Antipast's Pearl Shower Knee Highs?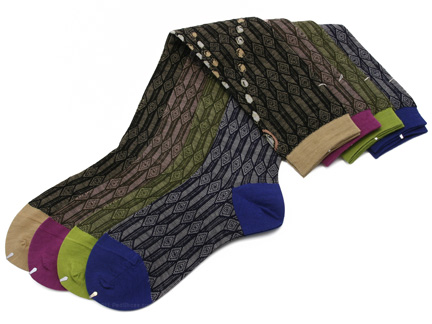 Strands of pearls cascade from a central medallion, draping across a geometric diamond pattern. The toes, heels, and top band provide a pop of brilliant color. (You can also go luxe with a trouser-length sock.)
Another "quiet" Antipast lovely is the Diamond Flower sock: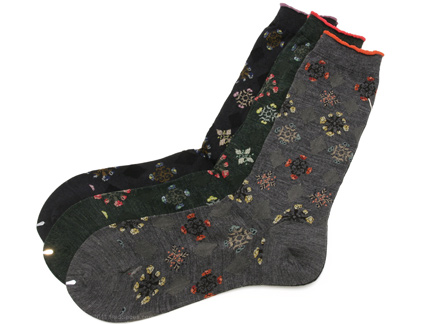 So pretty! Stylized clusters of flowers drift like colorful snowflakes across a subdued diamond-patterned background. (Yes, we have knee highs in this pattern, too!)
Sometimes it's kind of a shame shoes and boots inevitably cover up Antipast's artistry. Case in point: this season's beautiful Peace Bird socks: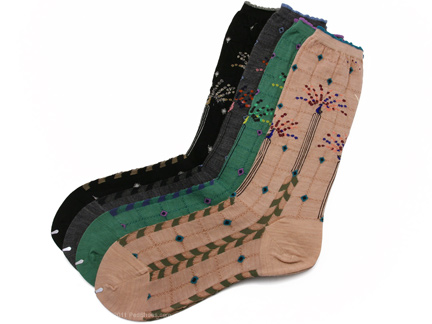 Yes, the spectacular peacocks spreading their colorful tail feathers are the stars of the show, but the chevron stripes and windowpane pattern over the foot are stunning! (It can be your little art secret!)
We've saved the most eye-popping Antipast sock for the finale (and it's our favorite): the New World Knee High!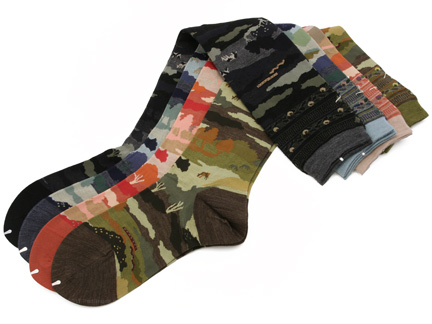 Colorful camouflage? Look closer! These knee highs are alive with fantastic landscapes, rolling with woodland hills and pastures dotted with grazing cows. Stuck in a boring meeting? Just look down at your legs for a pick-me-up! (We also have trouser-length New Worlds!)
Who knew keeping your tootsies toasty could be so much fun? Just think how many people's days you'll brighten simply by wearing your Antipast out and about!
(Any of Antipast's knee highs would look fantastic topping off this week's Sweet Treat, Cydwoq's Pilot Boot! You have until Tuesday to take 20% off by clicking "be sweet to your feet" at the top of any Ped page, which will whisk you to the Pilot, where you'll find the magic code to enter at checkout.)