Monday, November 26th, 2012
We hope all Ped fans in the U.S. enjoyed a wonderful Thanksgiving last week, and our Canadian friends, last month! We at Ped are truly grateful you're out there!
Since our fridges are now stocked with turkey leftovers (the pumpkin pie is already devoured), it can only signal one thing: the holiday parties have started! Which means we all face the annual dilemma of what to wear to sparkle and shine? Ped is here to help with shoes that will have you looking stellar and feeling like a million bucks through hours of cocktail-fueled mingling! Just add your favorite LBD, and you're all set to dazzle!
When you want to amp up your feminine charms, Chie Mihara is always your best friend. One of the prettiest party-ready shoes this season is her Insomnia: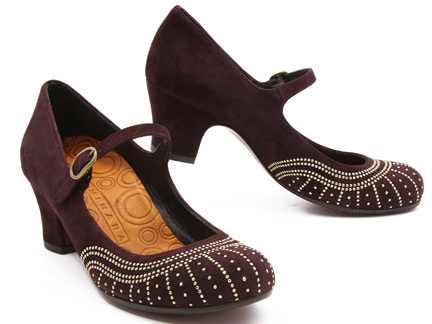 So romantic, the lovely application of rhinestones calls to mind the gorgeous beaded dresses worn by flappers in Paris in the 1920s! And the 2.5″ heel will keep your dogs from howling even if the celebration lasts until sunrise!
The truly amazing thing about Chie's designs is that no matter how high the heel, they remain comfortable! Case in point, the fun and flashy Uja: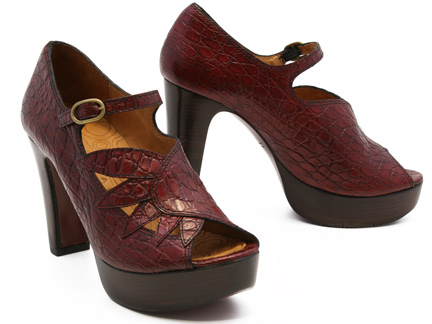 Sure, the heel is a statuesque 3.75″, but both the 1″ platform up front and Chie's anatomically designed footbed make the Uja a breeze to wear! With its retro styling and red faux-croc embossed leather, this shoe is a party all on its own—what a way to sass up a cocktail dress!
Feel like going arty to the party? Consider letting your funky light shine in the Trippen Leaf: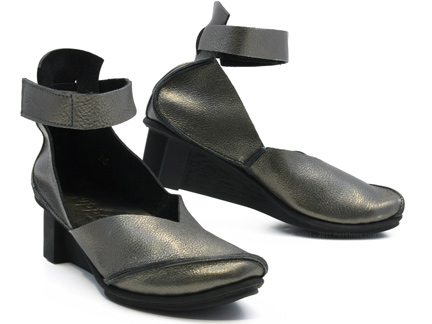 Glittery, bold, and sexy, this decidedly Euro-chic wedge will have all eyes on you wherever you go! And wherever you go, you'll be comfortable, thanks to Trippen's t-shaped rubber wedge sole.
Speaking of attention magnets, check out Cydwoq's new Science: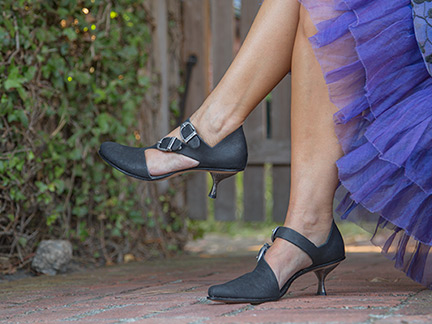 The buckles take this strappy shoe from Cydwoq to a whole new level! Gorgeous and incredibly sexy—the heat of the Science may cause you to be declared a fire hazard! (Worth it!)
Looking for something in a bootie to spice up the festivities? How about setting off some sparks with the Cydwoq Seek?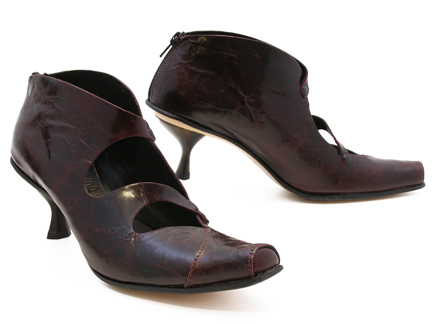 The antiqued wine-colored leather has a lovely sheen and black undertones that look luscious with evening wear! Plus, the zipper up the back is so saucy!
Another Cydwoq ankle boot that's ideal for tripping the light fantastic is the elegant Elevate: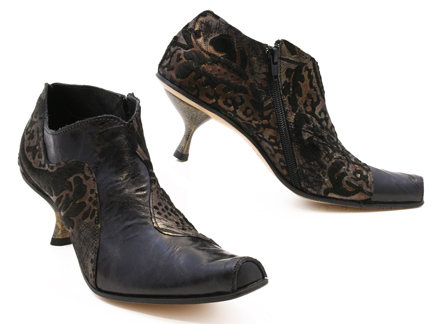 Talk about a femme fatale—Cydwoq's fluid combination of patterned and matte leathers is sure to generate a lot of oohs and aahs as you mix and mingle!
Ready to go all in for all-out glam and romance this holiday season? Then step out in the Cydwoq Rescue boot: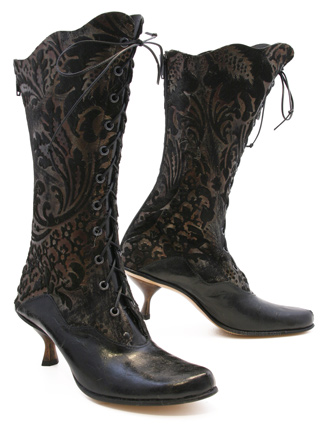 Cydwoq takes its spectacular burnt-out paisley pony leather, used so effectively in the Elevate, to even greater lengths in this knockout. The Rescue  is sexiness x 2 with its lace-up front and zip-up back! (Once you get the lacing the way you like it, you need only use the zipper to get in and out of this beauty.)
If your social calendar calls for something else, there are even more head-turning styles to help you kick up your heels over at Ped's main site! Here's to dressing up and enjoying the Holidays in high (heeled) spirits!
(This week's Sweet Treat would also make a funky addition to any party: the rockin' cool Trippen Wicked Put on your red boots and dance for 20% off by clicking "be sweet to your feet" on any Ped page, which will whisk you to the Wicked with the code that will bring 20% off at checkout!)