Saturday, May 7th, 2011
Here at Ped, we love organic materials—leather, wool, cotton, wood! Plus we we have a sentimental soft spot for clogs. But old-school clogs with wooden soles, are often, um, how shall we say, frumpy? And, as Ped fans know, "frumpy" and Ped simply do not mix!
Fortunately, some of our favorite designers have taken a new turn with wood, creating shoes, clogs, and sandals, where the only adjectives beginning with "f" that spring to mind are fantastic, fabulous, and FUN! Of course, each sole is meticulously cut, sculpted and sanded by hand for maximum comfort and pizazz! Behold a few of our woody favorites:
Proving a wood sole can be unbelievably chic, Ellen Verbeek's Caressa is a total knockout!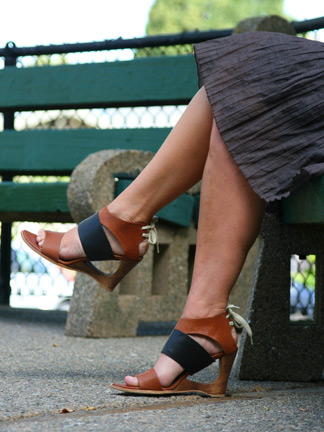 Ellen Verbeek perfectly balances the elements—the mix of colors, the lacing in the back, and the cutout wooden wedge—for maximum impact! We especially love how the black strap circles through the cutout under the instep. So cool!
Another sexy heeled sandal with an ingenious design is Coclico's Lucifer: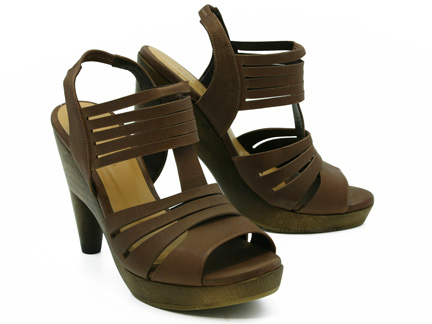 Notice how the bottom strap is actually a t-strap that ducks under the others to meet up with cutout straps at the ankle! For you gals who love adding a few inches to your height, the Lucifer's 4.25″ wooden heel lets you rise above the crowd, while the 1″ wooden platform up front keeps the pitch comfortable at 3.25″.
Ped's newest line, Vic Matie, takes things in a slightly different direction by combining wooden soles with leather-wrapped heels. A beautiful example is the Allegra: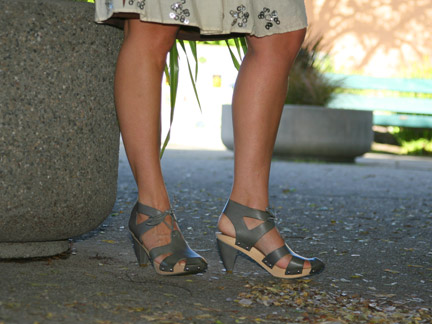 So sophisticated but also versatile, thanks to the Allegra's slate grey color—an ideal summer neutral. The hand-sculpted and sanded wooden sole feels wonderful against your bare skin!
Experimenting with more traditional clog construction while creating fun, kick-around-town styles, Vialis has the hippest wood in the house this season. Check out the Gabriela: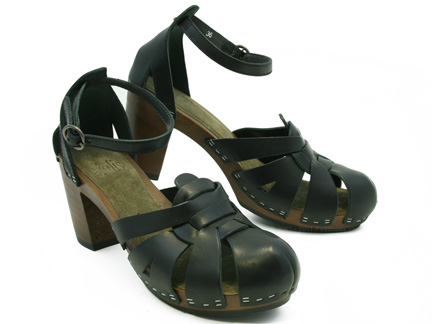 The way this sandal clog's straps weave in and out over the toe calls to mind a fisherman's sandal—if a fisherman's sandal were super-stylish and sassy! Another thing we love is the meticulous way the leather is stapled to the sole. Craftsmanship!
If you prefer nails to staples, then take a look at Vialis's cute-as-can-be Delfina slingback: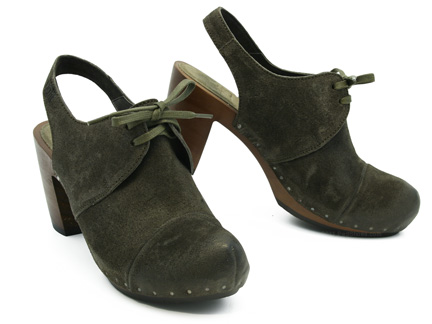 So much to love from the sweet lacing to the "asphalto" suede (a stellar greyish brown with just a smidgeon of green) to the padded insole! The Delfina is ideal for wearing with summer skirts and walking shorts!
Of course, if you're looking for the ultimate clog, one that pays homage to the classic style while taking it to a new level, then look no further than Fiorentini + Baker's Zilla Clog: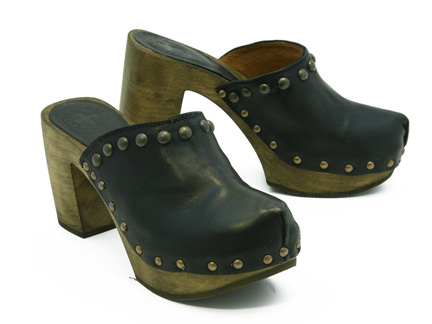 Wow. Just wow. Ever fabulous, Fiorentini + Baker has taken the basic architecture of an old-school clog and made it irresistibly sexy and sophisticated! The Zilla's brass studding is simply to die for! Wow.
As always, there are plenty more wood-soled beauties to admire at Ped's main site! So, wouldn't you like a wooden shoe?
(Psst, this week's Sweet Treat is also as comfortable as they come: Trippen's foot-loving Casanova! Simply click "be sweet to your feet" in the upper right corner of any Ped page to land at the Casanova with a discount code that will romance you with 20% off at checkout. Why not give in to Casanova's charms?)
Tweet