Monday, November 30th, 2009
We love our reliable favorites here at Ped, but every now and then it's fun to spice things up by trying a few new things. Last spring we introduced 49 Square Miles bags and Argila shoes to Ped's lineup, and this fall we're seasoning the season with a few more fresh designers we hope will make you smile.
First up, the ultra-cool, wood-soled footwer of Swedish Hasbeens. Yes, they're clogs, but they're so much more! Inspired by the love-the-earth style of the 1970s, Swedish Hasbeens crafts their shoes from sustainably forested wood and chrome-free, vegetable-tanned leathers. You can feel good about your shoes without sacrificing a scintilla of style. Here, see what we mean: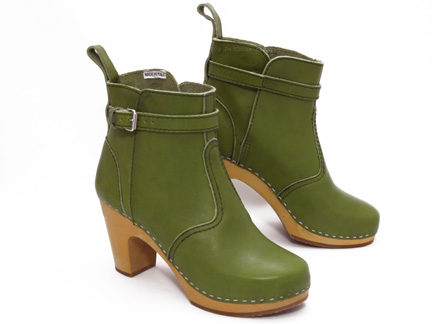 How rocking are these apple green Jodphurs? We are officially in love—as are several well-known celebrities, like Sarah Jessica Parker, who has been snapped wearing Swedish Hasbeens' Peep Toe on the set of the next Sex and the City movie. It's definitely a cutie: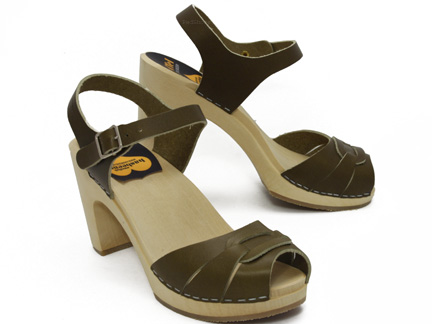 And just in time for when the mercury plunges, Rain + Jack arm warmers have arrived. We've known Helen Sharp and Si Doi, the creative hands and minds behind Rain + Jack, since the days when Ped was a brick-and-mortar store in Seattle, so we're delighted to carry their luxe, Australian lambswool, fingerless gloves. Even better, Rain + Jack custom knits Ped's arm warmers in our favorite color combos. For instance, chocolate and tiffany blue: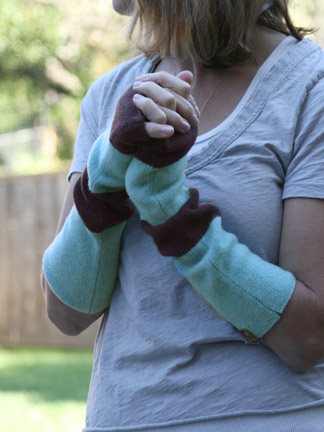 And you Ped fans know how much I love all things green:
Another new addition to Ped's family is Pepita, a whimsical jewelry line out of Milan, Italy created by Sveva Camarati, who learned to appreciate beautifully crafted miscellany in her grandmother's atelier. Sveva's fabulous way of combining antique baubles and fabric beads has already proven popular with you Ped fans! Her dazzling creations barely make it out of the box before they whiz out the Ped warehouse door on their way to new homes. If you haven't had a chance to drool over Pepita yet, here are a couple of our favorite pieces: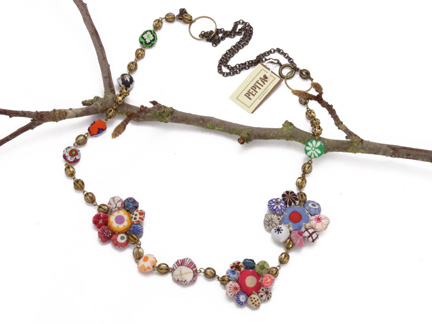 This Florinda necklace is where it all began for me. I saw it while traveling, tried it on, and never looked back. It's unlike anything else, with flowers formed from clusters of tiny hand-sewn fabric spheres, interspersed with antique brass beads.
Another Pepita eye-opener is the Angela bracelet: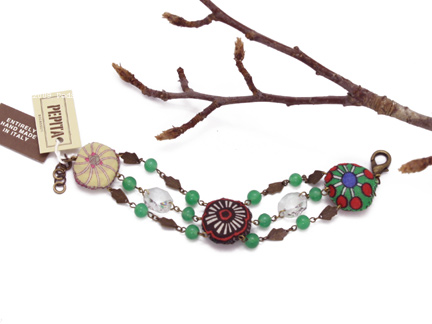 We think all these newcomers fit right in at the Ped party. (They certainly know how to start a conversation!) And we have still more ways to wow on the way–including a new shoe line! So, stay tuned.