Wednesday, January 5th, 2011
The Holidays were so much fun at Ped HQ that we were feeling a twinge of post-party blues. We asked ourselves what would lift out spirits, and the answer came like a bolt of lightning: Let the Winter Sale begin! We've gotten a little slap-happy with the price-cutting, but we think you'll approve!
Here are a few favorites we've recently marked down:
Although Vialis is new to the Ped family, this gorgeous line from Spain has become instantly popular. The double-collared Guell Bootie shows why: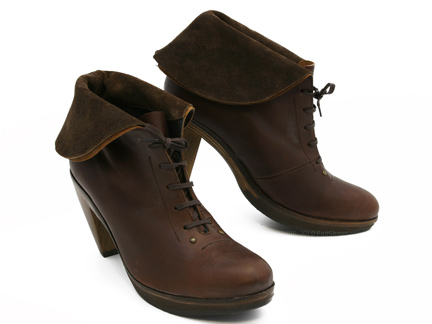 What could be better than a wooden heel on a luscious leather lace-up? You can wear the collar folded down to expose the inner suede layer or pulled up to show off the matte exterior. Versatile and chic, the Guell was delicious at $362, but it's even sweeter at $289!
Speaking of lovely heels, we are big fans of the metallic ones Cydwoq uses for some of its Vintage styles, like the Seek: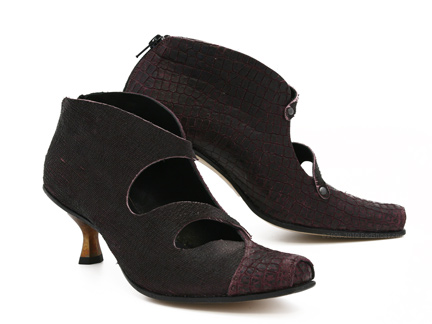 The combination of the burgundy textured leathers makes us swoon! Add the back zipper and, well, let's put it this way, you won't have to "seek" admirers—they'll be following you like drooling puppies! The Seek was sexy at $304, but it's even hotter at $243!
Another knockout heeled number is Chie Mihara's Vasca: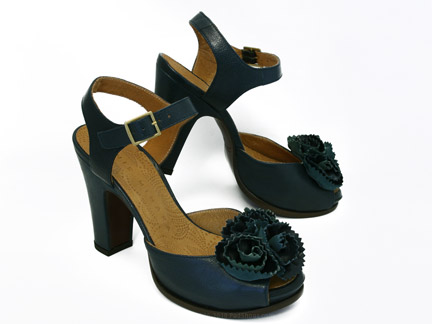 No one does retro-glam like Chie! We adore the pinked edges of the rosettes, and the deep teal color is to die for! Slip on this beauty, and you will instantly radiate the sex appeal of a 1940s Hollywood femme fatale! Lovely at $438, the Vasca is drop-dead gorgeous at $349!
Another heel with vintage appeal is Cordani's Remy: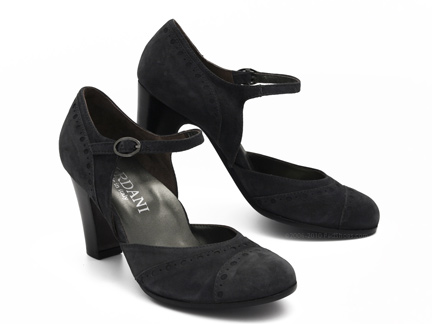 This grey suede mary jane is so practical—a neutral that's equally good for going to the office or going out to dinner—but the details keep it interesting! Worth every penny at $318, it's a steal at $199!
Couple Of's stellar Ava Oxford is another shoe that's fine for a board meeting but also has enough edge for an art opening: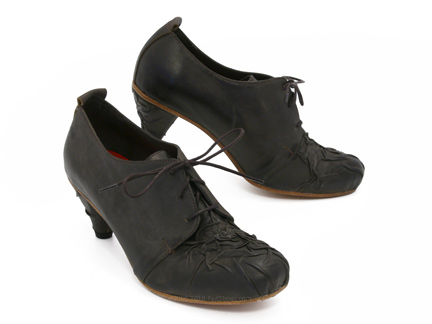 Everyone at Ped is amazed at Couple Of's skill at keeping designs clean and comfortable while at the same time adding just the right accents to set them apart! The folded and crinkled leather on the Ava's toe box and heel is unlike anything we've seen before—so cool! Stylish at $328, it's especially chic at $262!
Forget the heels, you say, you want a head-turning flat! Cydwoq has just the thing—the Measure Boot!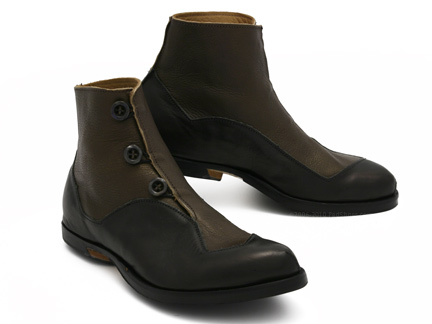 The Measure perfectly balances retro, with its spats-look and buttons, and modern, with the interesting way the dual leathers come together! And because it's from Cydwoq, you know this bootie is as comfortable as it is stylish. Terrific at $320, it's absolutely fabulous at $256.
What about taller boots? Yes, Ped fans, we have those on sale, too! One of the best is Ellen Verbeek's Camille Boot: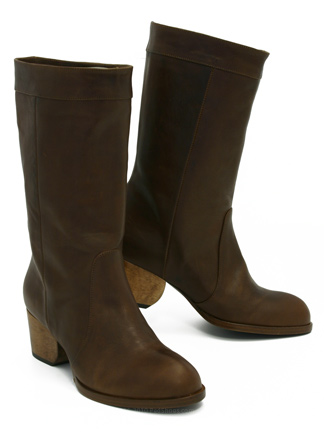 We love the ultra-chic minimalism of this mid-calf boot that combines deliciously supple leather with a hand-sculpted wooden heel! Easy to wear on almost any occasion! Wonderful at $594, it's unbeatable at $475!
And those are just the tip of Ped's bargain iceberg! So click over to the main site and snag your favorites before they melt away. The prices are scorching hot and definitely worth celebrating!
(Also, fyi, this week's "sweet treat" is especially shiny: Jamie Joseph's White Topaz Ring! Just click "be sweet to your feet" in the upper right corner of any Ped page, and you will be instantly transported to this dazzler, where you'll find the magical code that will bring a 20% discount at checkout.)