Thursday, February 9th, 2012
Ped fans, even on the coldest, most overcast, dreariest day, we LOVE this time of year! Why? Because every day brings a new shipment of boxes packed with spring styles! And this season, the prettiest so far are those designed by our lady of Spain, Chie Mihara!
In addition to scads of new styles, we've brought back some Chie favorites decked out in new colors and leather combinations. (Do not miss the Veranito in either curry or magenta!) And every pair of Chie Mihara's, no matter how high the heel, feels like heaven on your feet, thanks to Chie's uniquely designed insole. You look fabulous! You feel fabulous! The best of all possible worlds!
Below are a just a few of Chie's lastest charmers that will make your feet sing, "Spring!"
It's hard to know where to begin, but one of our favorites for gals who like to amp up their height is Chie Mihara's Amapola: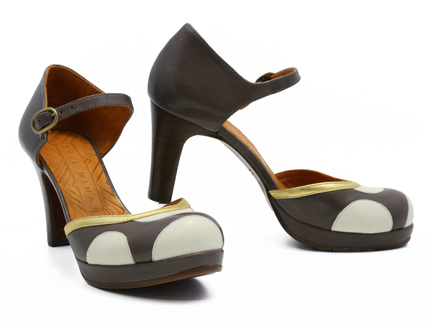 Holy cannoli, what a knockout! The large cream dots are so much fun, yet this two-part heeled beauty still radiates sophistication. The arc of gold piping is genius!
Chie is known for her carefully selected leathers, and this season several styles rock the snakeskin look. Drink in the gorgeousness of the Xope: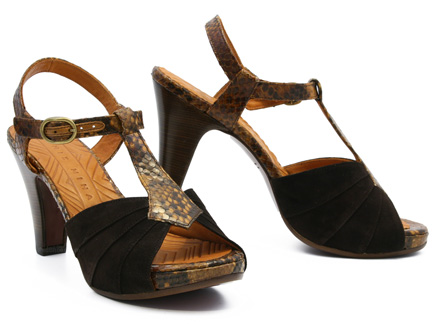 What a femme fatale! With its softly tucked brown suede up front combined with snake-printed leather everywhere else, the Xope looks like something a 1940s Hollywood starlet might wear!
Maybe your taste for retro runs more toward the 1970s, in which case, dig the Xeroco: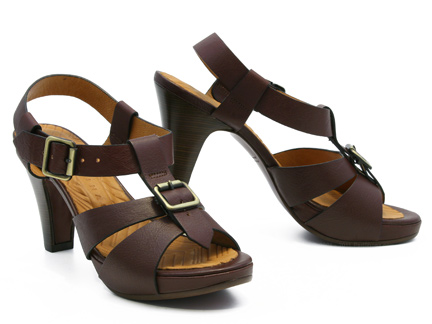 Chie Mihara is a virtuoso at taking fashion history's hallmarks and reworking them into modern designs. The Xeroco's chunky straps are vintage-inspired, but its front-and-center buckle is über cutting-edge.
"All very nice," you may be thinking, "but what about COLOR?" Well, make sure you're sitting down because you're going to swoon! (Chie has truly outdone herself.) Check out the Jaila!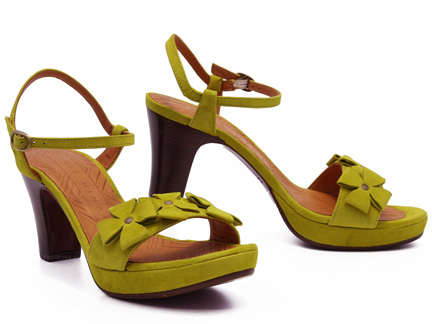 What a sweetheart! This heeled sandal is sunshine on your feet! Everywhere you walk in the Jaila, you're going to improve everyone's mood! (Wear cute shoes, do society good!)
And that's just the start of the color works! Take a gander at Chie Mihara's Tiju: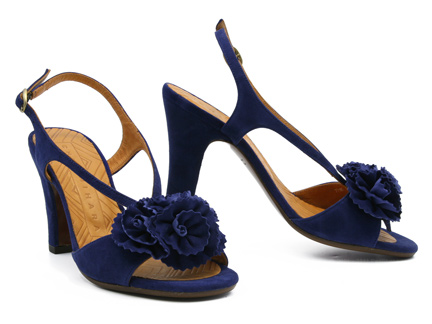 We can't help it—every time we look at this flowered lovely, we sigh. What a shade of blue! Plus, we love the way Chie has spiraled the suede and pinked its edges to make the rosettes on the toe.
For those of you who like to go bold, whip up the sass with Chie Mihara's Guinyo: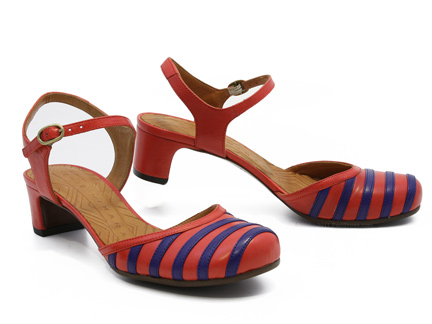 Charm alarms will go off everywhere when you step out  in this red and blue number! The new lower heel is breezy and fresh! The Guinyo will definitely get the party started wherever you go.
And speaking of parties, we saved our personal favorite for last! (Seriously, I've made this one my very own!) Say hello to Chie Mihara's Enty!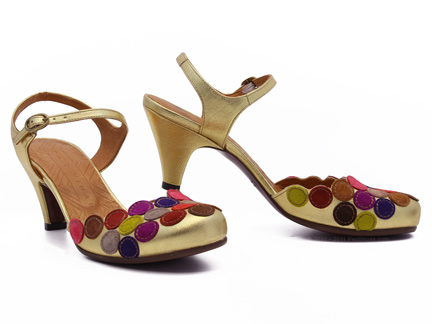 So chic! So whimsical! So fun! Multicolored suede dots festoon gold leather on this shoe that just begs to go out dancing! You'll start saying yes to every invitation just so you can wear the Enty out and about! Love, love, love (love, love, love, love).
And there are even more winning Chie Mihara styles over at Ped's main site. (Honestly, they're all so beautiful.) Pick your pleasure, and then go out and charm the world!
(Speaking of charming, this week's Sweet Treat is Jamie Joseph's Indian Ruby Droplet Earrings! Just in time for Valentine's Day, they will warm your heart and dazzle your admirers at 20% off! Simply click "be sweet to your feet" in the top right corner of any Ped page to be whisked to the earrings with the magic code for the discount at checkout!)