Thursday, May 3rd, 2012
Have you noticed? For the past few years, designers have been showing sandals with socks on the runway. We admit, at first, we thought it was a little weird, but the look has grown on us. The spirit is retro, fun, and funky! However, it all comes down to pairing the right sock with the right sandal.
A great place to start is with Antipast's picnic of summer socks, which we just unpacked at the Ped warehouse! Whether you wear these Japanese treats with closed-toe shoes or walk the cutting edge by synching them with heeled sandals, Antipast's socks are guaranteed to bring smiles wherever you go!
An argyle sock defines "classic," but, of course, Antipast's Emiko and Junko give it a unique spin, mixing up the colors by adding a contrasting border at the top: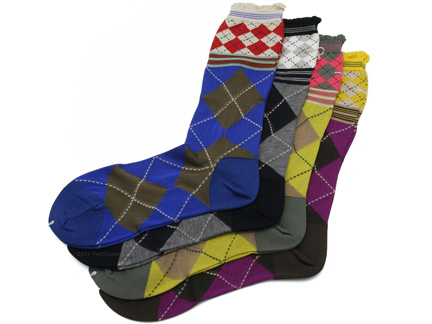 Feeling bold? Why not take the Antipast Cross Diamond Sock in blue in a decidedly un-classic direction by wearing it with the Vialis Arabelle? Dynamite!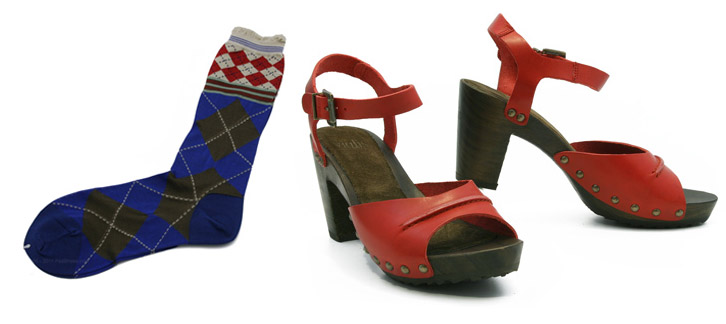 Want to wear a flirty skirt with a taller sock? We're crazy about Antipast's Monet Knee High!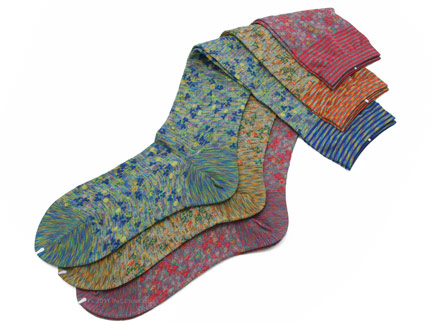 If you really want to make an impression (sorry, we couldn't resist), imagine pairing the blue version with Fiorentini + Baker's Floss slingback peep toe:


Antipast has so much fun playing with whimsical patterns, and this season, one of the juiciest jazzes up the  Citrus Socks: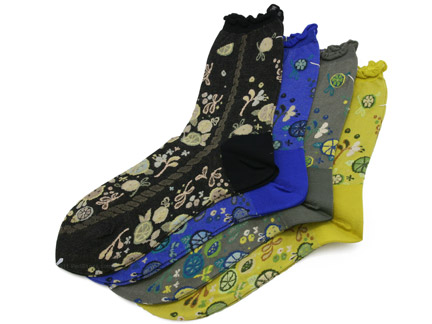 Combine this sweet sock in black with Accessoire's Tamba, though, and it takes a turn towards vintage chic: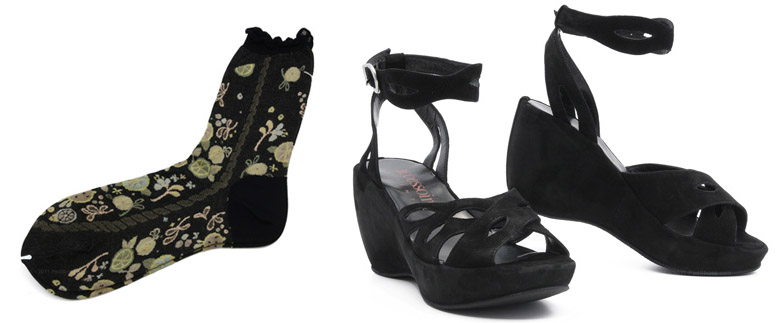 As every Ped fan knows we have a thing for striped socks! So of course, we're over the moon for Antipast's Railroad Over The Knee: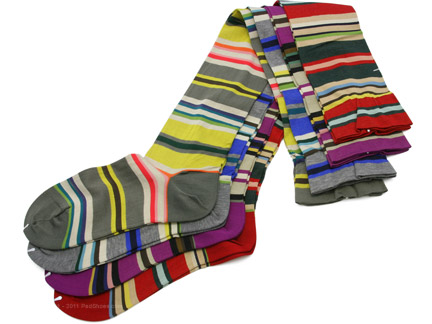 Want to make sure everyone remembers you (and leave people with their jaws on the ground)? Then consider taking the sexy-schoolgirl look to the extreme by pairing the Railroad in red with the Argila Allie.

Like the idea but prefer to scale it back a notch? Go for the Railroad in trouser length.
We realize these looks aren't for everyone, but if you have the arty verve to put them into action, they're sure to turn heads! And let's face it, just thinking about the possibilities makes getting dressed much more fun! There are plenty more Antipast styles to spark your imagination over at the main Ped site! So get psyched about socks!
(By the way, the Sweet treat this week is really, really, really sweet: Fiorentini + Baker's Emma Boot! Click "be sweet to your feet" in the upper right corner of any Ped page to land at the Emma with the code that will bring a sugary 20% off at checkout! Mmmmmm, now that's tasty!)